Thamesteel: 'Potential buyers' interested in Sheerness plant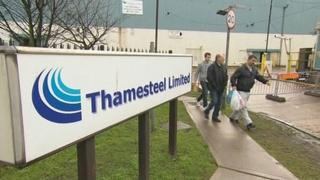 Administrators for a Kent steel firm where most of the workforce has been made redundant say they have received interest from potential buyers.
Thamesteel in Sheerness, which employed 400 people, is one of the biggest private firms on the Isle of Sheppey.
Accountancy firm Mazars confirmed that up to 350 workers would lose their jobs, with 50 retained to keep the plant in working order pending a sale.
It has taken out an advert in a national newspaper to find a buyer.
Staff were told by administrators on Thursday that they would be made redundant.
'Great workforce'
Rod Weston, of Mazars, said: "What we're trying to do is find a buyer for the business.
"We have a great workforce, a splendid facility, and we're now trying to find someone that may be interested in buying those assets and start up steel-making again in Sheerness.
"I've been contacted by four or five potential interested parties."
Thamesteel describes itself as "one of the fastest growing steel manufacturers in the UK" with an annual revenue of more than £100m.
In 2002, it was sold to Allied Steel and Works which then went into liquidation before the plant was acquired by the Saudi-based Al-Tuwairqi Group.