Charles Dickens house in Rochester opens hidden nooks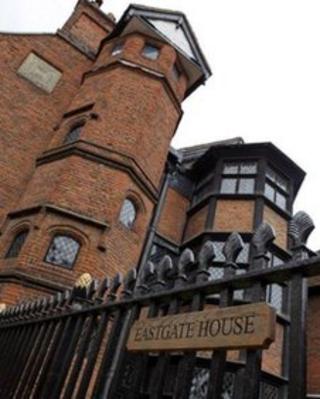 Closed sections of an Elizabethan town house in Kent featured in the work of Charles Dickens are being opened to the public for one day only.
Tours of the hidden areas of Eastgate House in Rochester are part of an open day being held on Saturday.
Eastgate House, built in the 1590s, features as the Nun's House in Dickens's novel, The Pickwick Papers.
It was awarded a development grant of up to £80,000 from the Heritage Lottery Fund in February 2011.
The cash has been used to appoint an architect and recruit volunteers.
Medway Council is now in the second stage of the lottery application process which it hopes will result in a full grant of just under £1m to turn the building into an exhibition gallery and community event space.
Eastgate House was a family home for several generations and then used as a girls' school during the 18th and 19th Centuries.
The garden is now home to the Swiss chalet where Dickens used to write which was previously at Gad's Hill, in Higham, Kent, where Dickens lived.
A Medway Council conservation officer will be on hand during the Eastgate open day to talk about the importance of the building as volunteers show visitors around.
The council said visitors would be given information about plans for the building's future.
It is also keen to hear visitors' views and memories about the building.
The first phase of development work includes creating a friends group to support the project.