Pfizer site in Sandwich in talks with potential buyer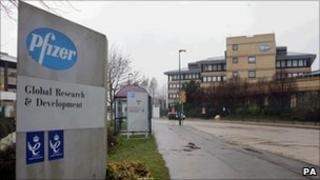 Pharmaceutical giant Pfizer is in detailed talks with a potential buyer for its operation in east Kent.
The company announced nearly a year ago it would be closing its operation in Sandwich, which employed 2,400 people.
Pfizer said it had reached a "positive milestone" and was in talks with a consortium led by London and Metropolitan about buying the site.
In November it announced that 650 jobs at the Discovery Park would remain at the site.
David Foley, chief executive of the Thanet and East Kent Chamber of Commerce, said it was "another step on the road to the site being sold and businesses moving in there".
"It's a magnificent site... you have splendid road connections, we hope we'll soon have better air connections, and of course it's right opposite the biggest trading market in the world, which is of course Europe," he said.
'Clear vision'
The Conservative MP for Thanet South, Laura Sandys, said: "It means we'll be able to market the Discovery Park very effectively and ensure that we've got a vision for the Enterprise Zone that will attract new jobs and new companies."
She said she had been briefed by London and Metropolitan, which had a "very clear vision about having a strong life-science park that will attract people internationally".
"They really believe in east Kent and I think that makes a big, big difference," she added.
In a separate development, Pfizer has also completed the sale of its sports and social club and childcare facilities.
In a statement, the company said the consortium was financed by a "major European institutional real estate investor".
It said: "This announcement is a positive milestone in the transition of Discovery Park to becoming an R&D-led multiple-use campus."