Horse sanctuaries in Kent are at capacity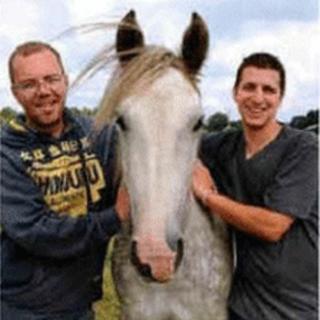 Horse sanctuaries in Kent say they are full because owners are finding it unaffordable to keep their animals.
The sanctuaries say keeping a horse costs about £400 a month, with increased feed and farrier prices and a 20% VAT rate.
Graham Catterall, from Nelson Park Riding Stable, said diesel prices influenced the cost of hay.
Stella King, from Canterbury Horse Rescue, said she was turning away unwanted horses.
She said: "That's the hard bit, turning round and saying to someone 'I really would like to help you but I can't physically take them' because the charity cannot support more."
Owners do not want to consider putting their horse down even if it is the animal's best option, according to Ms King.
She said: "They say 'we'll pass it on, it might have a couple more years somewhere else' but they don't realise that that might not be the best thing for that particular animal."
'Drugged-up'
Mr Catterall, whose stable is in Woodchurch, said: "The VAT rate has gone up, the farrier rates have gone up, price of feed more importantly has gone up.
"Our dealer for our hay has put his prices up and up just to compensate for the price of diesel."
Mr Catterall added that people were buying animals cheaply at auction without knowing what they were taking on.
"You don't know why they're only £300. It could be because they're lame and they're drugged up so they don't look lame when they're in the auction arena."
Happy Endings Animal Rescue, in Faversham, is also at full capacity with 65 horses.
Chris Johns, from the sanctuary, said: "We find them left in fields or tied up to our gate."
He added: "When you're paying livery at £75 a week, plus feed and bedding, you could be looking at £400 a month for the one horse."