Chinese New Year festival in Medway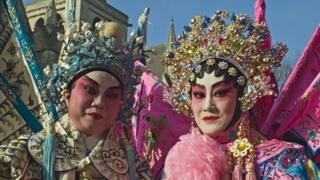 Medway is welcoming in the year of the dragon with music, dance and food in one of the largest Chinese New Year celebrations in the country.
The festivities start at 11:30 GMT on Saturday in Chatham High Street and in the Pentagon Centre.
The Medway Dragon and Lion Dance team will round off the weekend's events at a show starting at 14:30 on Sunday.
Dragon, lion and unicorn dancers and more than 150 people in Chinese costume are set to take part in the festival.
The Chinese New Year celebrations go on for about 15 days.
'A fun time'
Ming Yau, one of the festival organisers, said: "On the first day everyone greets the senior members of their family to pay their respect.
"On the seventh day, it's like everyone's birthday, and on the last day of the new year celebrations, on the 15th, it's the Chinese Valentine's Day."
The Medway Chinese New Year parade starts at 12:00 on Sunday at Military Road.
Ashley Davis, organiser of the events with Mr Yau, said: "The year of the dragon is a really auspicious year in Chinese culture, when lots of new things happen.
"Potentially it's a good year for improving business.
"The Chinese New Year is a fun time in the Chinese community."