Flood insurance fears for thousands of Kent homeowners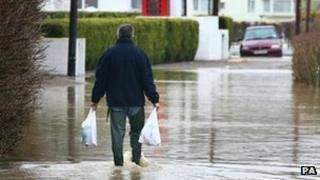 More than 30,000 Kent homeowners are at risk of flooding and many could face insurance problems, experts have said.
In the past year, the Environment Agency has reduced the risk for 3,000 Kent homes but 34,000 remain at high risk, spokesman Mark Douch said.
A government pact ensuring flood cover ends in 2013. Campaigners and the Association of British Insurers want cover guaranteed after that date.
The government said it was working with the insurance industry on the issue.
Mr Douch said the risk of flooding was a "huge problem" for Kent, which had a huge coastline and could be affected by North Sea surges and storms from the south west.
He said the agency was trying to move as many properties as it could out of high-risk zones, but 10,000 Shepway properties were at high coastal flood risk, while Yalding and East Peckham, which suffered severe floods in 2000 and are both near the River Medway, also remained at high risk.
Sue Chalkley, a member of the National Flood Forum, which supports victims, said the end of the current insurance deal was "seriously worrying".
Without a deal, homeowners would either pay higher insurance or not have insurance, which would affect mortgages, she said.
'Decision needed'
Mrs Chalkley, whose East Peckham home has been flooded twice, added: "The people that suffer the most in floods are older people or vulnerable people, or people on low incomes, and they are going to be really hit by this."
Matt Cullen, from the Association of British Insurers, said insurers and the government had spent 18 months looking at the options.
"We really want a decision to be made because we don't want to be in a position where people are struggling to get insurance in a year and a half's time."
A Defra spokesman said the government was working to ensure insurance would remain widely available after the current agreement expired and an announcement would be made this spring.
He said the government would also consider whether there were feasible, value-for-money ways of targeting funding support to those most in need.