Hawkinge residents 'appalled' at KCC's proposal to close tip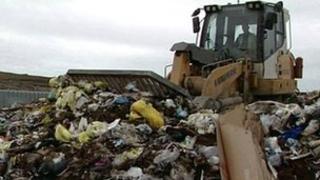 Proposals by Kent County Council (KCC) to close a rubbish tip in Kent have angered local residents.
KCC is reviewing its network of 19 household waste centres to make sure they are "fit for purpose".
A consultation is under way which includes proposals to close tips at Hawkinge near Folkestone and Richborough in Thanet.
Residents in Hawkinge believe they are being "penalised for being such good recyclers."
Councillor David Monk from Hawkinge Town and Shepway District Council said he had seen a chart showing the Hawkinge tip as having the lowest input of rubbish.
"He said: "Why should be be penalised for being so good? They are building a new transfer station at Ashford and Ashford has one of the worse recycling rates in the country.
"They are comparing the throughput at Hawkinge with Ashford - as Ashford is so bad at recycling of course there's a load more goes into their tip."
'Cost effective'
Hawkinge Town Council held a public meeting over the plans to close the Hawkinge site and Mr Monk said "people were appalled". The town council has now written to KCC urging it to rethink its proposals.
A statement from KCC said: "We are carrying out a consultation with the public to ensure that our household waste recycling centres are fit for purpose and cost effective for the future. All views will be taken into account before any formal decisions are taken.
"We would encourage residents to read the consultation document and submit their feedback to us, so that as many views as possible can be taken into consideration."
As well as closing Hawkinge and Richborough, KCC is also proposing to ban or reduce trade, industrial and construction waste from household waste recycling centres and exclude householders not from Kent from using them.
It also wants to replace three centres at Dartford Heath, Swanley and Sittingbourne with new ones, and add a new one in Tonbridge and Malling.
The consultation closes on 9 February.