Medway Council: Thames Estuary airport idea 'pipe dream'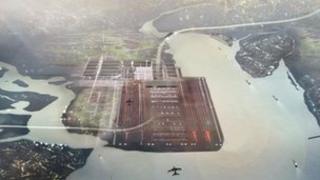 Politicians in Medway have condemned plans to examine the idea of building a Thames Estuary airport in a consultation on UK aviation.
They argue the proposed airport hub would be a waste of money and damage the environment off the Hoo peninsula.
Leaders on Medway Council have written to Transport Secretary Justine Greening asking her to attend an urgent meeting so she can hear their objections.
Supporters of the idea say the UK needs more airport capacity.
The airport would be built partly on reclaimed land and could be on either an island or a peninsula.
An open letter from the four group leaders on Medway Council said that 76% of the UK public opposed the proposals, along with many major airline industry leaders.
'Huge affect'
The letter, which describes the proposal as "a pipe dream", has been signed by Medway Council's Conservative leader Rodney Chambers, Labour's Paul Godwin, Liberal Democrat Sheila Kearney and leader of the independent group Andy Stamp.
It said: "If it were to go ahead, it would have a huge affect on the lives of hundreds of thousands of residents in Medway, as well as across Kent and the wider Thames estuary.
It said the airport "would devastate an area of global environmental significance" and the infrastructure needed would "cut great swathes off the green belt".
Supporters of the scheme, including London Mayor Boris Johnson, say a new hub is needed to meet the demands from airlines and big business for more airport capacity so the UK can compete with European rivals.
They also argue large-scale infrastructure projects are needed to stimulate the UK's struggling economy.
Passenger demand for London's airports is forecast to increase from 140 million to 400 million a year by 2050.