Plans to reduce exclusions from Kent schools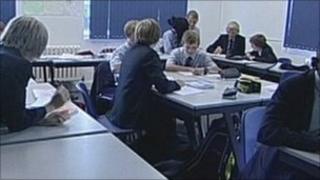 Measures are to be introduced to ensure that fewer than 50 pupils are excluded from Kent's schools in any one year.
In the last academic year there were 237 exclusions from schools, 198 of them permanent. There are 210,000 pupils in Kent's education system.
Kent County Council (KCC) said it aimed to reduce the number of exclusions to 50 by 2015.
The council said it particularly wants to ensure that children with special educational needs are better managed.
KCC commissioned a report into the exclusion of pupils from Kent's schools which will be discussed by the council's education committee later.
Mike Whiting, from KCC, said: "There are a number of strategies which can be used to give the child 'time out' from the classroom, and that may be all that it needs.
"The report that we've got includes a profile of all the 12 districts and borough areas in the county and that highlights a low level of exclusions, particularly in Ashford and Dartford and Tunbridge Wells."
"We need to talk to the head teachers in those districts to find out what's made them so successful and then to spread that practice elsewhere."
'Blunt instrument'
About a third of secondary schools in the Kent are independent academies.
"We do need to work closely with academies and our maintained schools and get them to work together," Mr Whiting said.
Professor Carl Parsons from the University of Greenwich said that although the proportion of pupils being excluded was low, it was an indication that the education system was not meeting the needs of all children.
"Exclusion is a very blunt and punitive instrument used with children who sometimes have a whole range of problems.
"Children on free school meals and pupils with special educational needs are disproportionately excluded," he said.