A Canterbury grammar school criticised for 11-plus score increase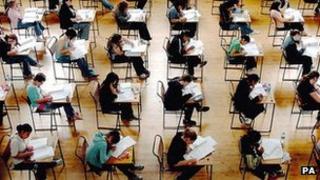 A grammar school in Canterbury has been criticised for proposing to raise the pass mark of the 11-plus exam.
Simon Langton Grammar School for Boys is considering the results of a consultation to change its over subscription policy.
Ken Moffat, head of the school, says the changes will open up the school to boys from a wider catchment area.
Peter Read, an Kent education advisor, says the move will have a detrimental effect on education in East Kent.
Currently the school's catchment area is five miles, the changes mean they could take children from within a nine-mile radius from the school.
Mr Read said: "Under this scheme they are likely to not take pupils living as near as four or five miles, they are going into towns like Faversham which is already supported by a local grammar school."
'Super selection bandwagon'
The other proposed change to the admission criteria mean preference will be given to boys who achieve a combined score in the Kent Test of 385 or above, currently the score is 365.
Mr Read, who is also a former grammar school head, believes that these changes are not about giving opportunities to more children in the Canterbury area but to ensure the school has the highest achieving pupils.
"Simon Langton are aiming to join this growing group of super selective schools," he said.
"We've seen it done in Maidstone, in Dartford and I'm sure that Simon Langton won't be the last because others will also want to join the band wagon of super selection.
"I sadly think that this is starting to nibble away at what was once a right - if you pass the 11-plus you go to a grammar school."
In response to the criticism Mr Moffat said: "Our argument would be that it's just silly on the face of it that a school nationally that is seen as a beacon of scientific endeavour is only available to people who live within four or five miles of it.
"Traditionally where we have had people from Whitstable and Herne Bay, they at least, should have access to a school of excellence."