Fire crews tackle large blaze at Kent chicken farm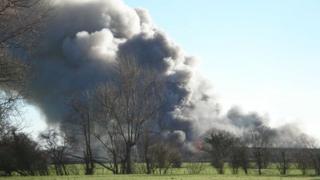 More than 50 firefighters have been tackling a large blaze at a chicken farm in Kent that created a huge plume of smoke.
At its height 10 crews fought the fire, which started in farm buildings in Cranbrook Road, Frittenden, near Staplehurst, at about 11:20 GMT.
Smoke from the blaze could be seen from several miles way.
People living near to the fire were advised to stay indoors and keep their windows and doors shut.
Kent Fire and Rescue Service said crews scaled down their efforts at 15:40 GMT.
'Family shocked'
A spokeswoman for the service said no-one had been injured in the fire.
David Friday, of Fridays Limited, said the business had been in his family for 50 years and they were all shocked.
He added: "This morning a fire broke out at our Knoxbridge site near Cranbrook, Kent.
"Two hen houses were affected during the fire, one empty and one stocked. The Kent Fire and Rescue Services successfully controlled the fire around midday. All staff are accounted for and no injuries have been reported.
"An investigation will now take place into the damage caused and the source of the fire."
The Health Protection Agency has urged motorists who drive through the smoke to close their windows and air vents and turn off their air conditioning.
'Limit the time'
A spokesman added: "So far there have been no reports of any people experiencing ill effects from this fire.
"The fire and rescue service is on site dealing with the fire and the other agencies involved will continue to monitor the situation and issue advice to the public, businesses and organisations affected as necessary.
"Any smoke can be an irritant and as such, if people need to be outdoors, they are advised to avoid outside areas affected by any smoke or ash, or to limit the time that they spend in them.
"Some of the substances present in smoke can irritate the lining of the air passages, the skin and the eyes."