Maidstone school welcomes changes to ICT teaching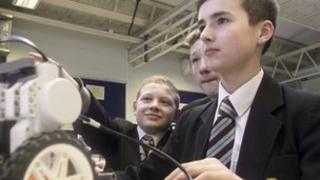 A computing specialist school in Kent has welcomed proposed changes to how information and communications technology (ICT) is taught.
Maidstone's Oakwood Park Grammar School, graded outstanding by Ofsted, already teaches some of the new ICT elements proposed by the government.
Year seven students develop computer games and GCSE and A-level computing has been introduced at the school.
Head teacher Kevin Moody said: "I agree with what the government is doing."
He added: "ICT hasn't been particularly exciting.
"The focus has been on process rather than problem solving and I welcome what it is trying to do. It is good to get the support and will be good for the future."
'More freedom'
Oakwood Park has four ICT suites with a computer for each student and printers and scanners, plus a number of Apple Mac computers which are used by other departments.
Carol Welch, ICT subject leader, said although there were computing elements to their current ICT lesson, the changes would give the school more freedom.
"For this school it's not going to be a massive change but it will give us the freedom to look at changing the curriculum a little because at the moment we are still restricted.
"I will have a look at making the curriculum a little bit wider and a little bit more challenging around the computing areas."
Ms Welch said that the ICT curriculum taught in some schools could be a bit dull and boring, where students were asked to produce a word document for a particular task.
At Oakwood Park, students are encouraged to use those more traditional ICT skills, such as Word and Excel, as a communication tool to enhance the computing side of the subject.
"Students can develop a computer game and we get them to write a letter to a games company to promote it - we do mail merge later on and we learn about databases," Ms Welch said.
"So we try to incorporate more real life activities, whereas I think at the moment if you just focus on the skills then it can be quite dull."
'A bit scared'
Computing is introduced to students in year seven and a number of other programming activities are also used throughout the curriculum.
"Certainly here, a lot of the children are quite keen on the programming side once they discover it and that's the key thing - until they know it's there they don't know how exciting it can be," Ms Welch said.
"We are introducing quite a lot of the computing elements quite early on, so for the government now saying that's the direction we should be taking then that's a really good thing."
Ms Welch and her staff are computer specialists but she fears other schools may not welcome change to the curriculum so readily.
"We have actually come from technical backgrounds, whereas I know quite a few ICT teachers in other schools will actually be a little bit scared of the announcement because they have come from a French, science or maths background and haven't necessarily got the programming skills," she said.