Bangladeshi restaurant boss Bajloor Rashid made MBE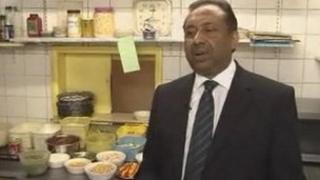 A leading figure in the Bangladeshi restaurant industry, who opened his first business in Dover, has been named in the New Year Honours list.
President of the Bangladesh Caterers Association, Bajloor Rashid, from Ashford, Kent has been appointed MBE for services to the industry.
Mr Rashid, who opened his first restaurant 1987, now runs a chain of businesses in Kent and London.
Roger Gale, the MP for Thanet North since 1983, has received a knighthood.
During his time at Westminster he has been chairman of the All-Party Animal Welfare Group and vice-chairman of the Conservative Party.
A second politician from the county has also been honoured. The Conservative leader of Dartford Borough Council for the last six years, Jeremy Kite, has been appointed MBE.
The county also has two new CBEs, Kent University Emeritus Professor of Learning Disability James Mansell and Robert Assirati, from Tonbridge, formerly of the Cabinet Office.
Chairman of the Friends of Bedgebury Pinetum, Gerald Williams, from Tonbridge, is among nine people appointed OBE.
They include Lt Col Anthony Davies, from Tonbridge, chairman of the South Atlantic Medal Association and former chief executive of the Union Jack Club and Christopher Hall, from Tunbridge Wells, chairman of the charity World Horse Welfare.
David Ashman, from Sandwich, is also appointed OBE for voluntary service to the Soldiers, Sailors, Airmen and Families Association Forces Help.
Other new MBEs include Professor Stephen Lambert-Humble, head of dentistry at the University of Kent, and Bakhshish Singh Sodhi for his work to improve race relations in Gravesend.