Broadstairs woman homeless two years after subsidence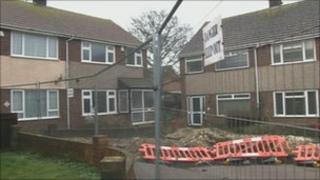 A woman who was forced to abandon her Kent home two years ago after sudden subsidence led to large cracks has still been unable to return.
Residents of six houses built on the site of a chalk quarry in Broadstairs moved out on 23 December 2009.
A row over whether or not a burst water main was responsible has led to a delay in repair work being undertaken.
Jill Roach, who owns a house in Victoria Road, said the situation was "very upsetting".
She has had to live with her parents since large cracks in the ground and the walls of her property forced her to flee.
'Buck-passing operation'
The other homes affected also remain empty.
Ms Roach said: "It's totally disheartening because you work hard for your home.
"I'd just spent ages doing it up and decorating it and I'd just got it right how I wanted it. To see it like this, it's very upsetting."
A spokeswoman for Southern Water said: "The insurers of six properties in the area are claiming that our mains burst caused the subsidence but our investigations indicate this is not the case and that the main was burst by the subsidence due to the area being built on the disused chalk pits.
"Our insurers have commissioned extensive investigations of the area which are ongoing. Regrettably for those people involved the matter is still not concluded."
Laura Sandys, Thanet South Conservative MP, said the delay was unacceptable.
She added: "There's just been a buck-passing operation going on between the insurance companies, between the utilities companies and also the council.
"They've been very, very difficult."
Thanet District Council previously said it could not allow residents into their homes until all the repair work had been carried out.