'70% of crime unsolved' in Kent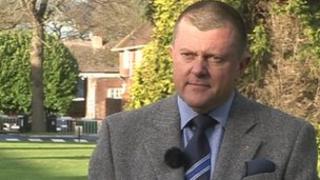 Seventy per cent of crime in Kent goes unsolved, according to figures obtained by the BBC.
Kent Police have revealed 84% of burglaries and 82% of car crimes are "undetected", which means no-one has been charged or prosecuted.
However, according to Kent Police its overall rate of undetected crime is lower than the national average of 73%.
The figures, released under the Freedom of Information Act, date from between September 2010 and August 2011.
They show there were a total of 23,780 recorded crimes, 17,512 of which went undetected.
In February the force announced that it planned to lose the equivalent of 1,000 staff and 500 officers to cope with a 20% budget reduction.
At the time, the Kent Police Federation criticised the move and said losing 500 officers would bring "real problems".
'Put them in prison'
However, Ch Supt Steve Corbishley, said: "Kent Police has a relentless focus on fighting crime and we are proud of our record.
"Crime continues to fall in Kent, month on month, year on year.
"We are committed to enhancing our detection rate and ensuring that more offenders are brought to justice."
Ian Pointon, from Kent Police Federation, said as the number of officers is cut there is an increased risk of more crime going unsolved.
He said: "As we lose 1,500 people, we'll have even less people to target those prolific offenders.
"History tells us that when you target those people you tend to catch them and put them in prison.
"And when they're in prison they can't burgle your house."
'Target-hardening'
Keith Hayward, who is professor of criminology at the University of Kent, said historically police were not that effective at solving crime.
He said: "The falling crime that we have experienced over the last two decades has a lot more to do with us and the society in which we live.
"For example, the rise of CCTV cameras, target-hardening of premises and a greater awareness by the public of crime and how to avoid it."
Stephen Jones, a farmer in Kent who has had multiple items stolen from his farm, including batteries, fences, gates and tools, said: "I'm surprised [the rate of undetection] is as low as that to be honest.
"We've never had anything solved, it just goes on and on."