Kent prepares for Charles Dickens bicentenary events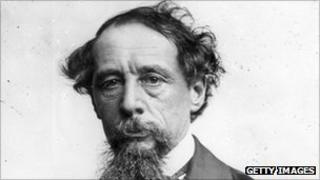 Kent is preparing to be in the spotlight in 2012 for the celebration of the bicentenary of Charles Dickens.
The Victorian author spent some of his youth in Chatham, had holidays in Broadstairs and died in Higham, near Rochester.
Many of his stories are set in or inspired by Kent.
Ruth Wood, from Visit Kent, said: "We're hoping for lots of extra visitors next year but there are also projects which will last beyond 2012."
Ms Wood added: "Dickens is already a big draw for people and the bicentenary will raise the profile of the county on an international level."
Visit Kent is working with London and Portsmouth to build an itinerary for those interested in the author. The tourism group will also launch a Dickens smartphone app for the bicentenary year.
Three years after Dickens was born in Portsmouth on 7 February 1812, he moved to London with his family.
Between the ages of five and 10, Dickens lived in Chatham where his father was a clerk at a Royal Navy pay office. His adult life was divided between London and Kent.
Gad's Hill Place
In 2012, work will start on turning Gad's Hill Place in Higham, where Dickens died and spent the last four years of his life, into an international heritage centre.
Marion Dickens, the author's great-great granddaughter, said it was the only house he ever owned.
Dickens wrote Great Expectations and A Tale of Two Cities at the property, which is part of an independent school where Ms Dickens is a governor.
The Rochester and Chatham branch of the Dickens Fellowship is raising £100,000 to restore Charles Dickens' chalet, which was in the grounds of Gad's Hill Place during his lifetime.
It is now in the gardens of Eastgate House in Rochester.
The branch's chairman, John Knott, said: "It has got to be taken apart, some of it treated, some replaced. We hope to have it ready in 2012."
The branch is also planning public events in Rochester and Chatham for the week of the 200th anniversary.
'Powerful influence'
Peter Shaw, who runs the annual Broadstairs Dickens Festival, said: "We're really making a big effort to make sure we have a tremendous festival and that we have a legacy to leave behind as well."
He said before the author moved to Gad's Hill Place he went to Broadstairs every summer for his holidays from 1837 to 1851.
He added: "He was a great walker and used to disappear for days on end to go and explore. He became very familiar with the marshes and all around north Kent."
Kent is also home to a biannual Dickens festival in Rochester and the tourist attraction Dickens World in Chatham, which has its own events planned for the bicentenary.
Director of the Charles Dickens Museum in London, Dr Florian Schweizer, said: "Places, scenes of daily life and the diverse landscape in Kent had a powerful influence on Dickens' imagination when he was a child.
"He used his intimate knowledge of Kent to great effect in many of his novels, giving the county a prominent topographical role in his oeuvre that is second only to London."