Joseph the camel stars in Horsmonden nativity play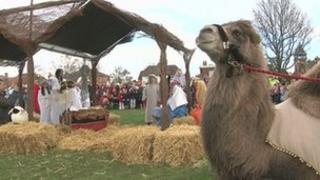 A nativity play with a difference has taken place on a village green.
The production in Horsmonden, Kent, which is held every Christmas, recreated the stable scene with three kings arriving accompanied by a camel.
Residents played the main parts and the set also included a manger built by a local carpenter in costume, a flock of sheep and a donkey.
The camel, appropriately named Joseph, had travelled down from an animal park in Ashbourne, Derbyshire.
A choir and a local band also performed Christmas carols and songs at the event, which was hosted by members of St Margaret's Church along with other local churches and businesses, and the village school.