Chatham house fire deaths: Three deny murder of family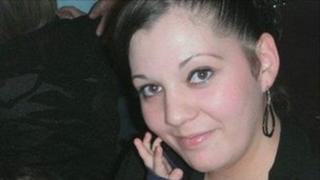 Three people have denied murdering a mother, her father and her son who died following a fire at their Kent home.
Melissa Crook, 20, and her 15-month-old son Noah died in the blaze at their house in Chatham Hill, Chatham, in September.
Her father Mark Crook, 49, who was injured in the fire, died the following week in hospital.
Danai Muhammadi, 23, Farhad Mahmud, 35, and Emma Smith, 21, pleaded not guilty to three counts of murder.
Ms Crook's mother Amanda and her brother Bohdan Crook were also injured in the fire.
Arson charge
Mr Muhammadi, Noah's father and estranged husband of Ms Crook (who is also known as Mrs Muhammadi), of Britannia Street, Coventry, and Mr Mahmud of Kensington House, Maidstone, also denied two counts of attempted murder.
Emma Smith of Barley Lea, Stoke Aldermoor, Coventry, Mr Muhammadi's girlfriend, pleaded not guilty to all the same charges as the men.
She also denied an additional charge of conspiracy to commit arson with intent to endanger life.
All three were remanded in custody until the trial at Maidstone Crown Court, due to start on 18 April.
The case will be heard by a High Court judge and is expected to last for four weeks.