Medway schools 'could do better'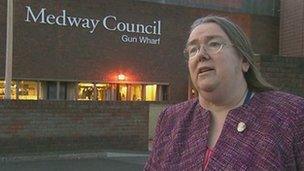 An education authority among the bottom five in the primary school league tables has admitted it could do better.
Only 68% of Medway's 10 and 11-year-olds reached the standard expected in both English and maths, compared with a national average of 74%.
The north Kent council said some schools had trouble recruiting teachers because of their location while others had changing student populations.
But it said more than half its primaries had improved since last year.
Richmond upon Thames topped the league table, published on Thursday, with 87% of children attaining Level 4 in maths and English.
Central Bedfordshire was bottom with 66%.
Hilary Sanders, Medway's school assessment and performance manager, said the council was concerned that it was in the bottom five for the second year running.
"I don't think we are failing children but I think we could do better and we are working with the schools to do better," she said.
"We know that, for example, mathematics is a priority for us and as been for a couple of years.
"We know that in some schools there is a more urgent priority to raise standards."
She said some Medway primaries were in remote areas where teachers found travel difficult.
"For some schools there is a quite a high population of children who come, stay for a while and then go again so they are not getting a stable school experience," she said.
"We don't want to be in this position but we have improved.
"We are working very intensively with the schools that are most a risk and in need.
"Since 2009 we are up three points and we are aiming to maintain that improvement."
Related Internet Links
The BBC is not responsible for the content of external sites.