Buddy Holly guitar frets used in replica instruments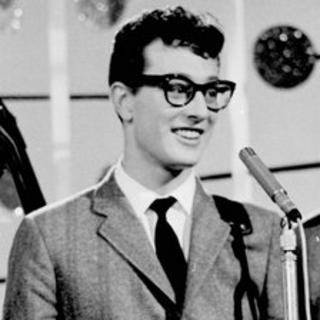 A guitar maker has produced replica Buddy Holly guitars using frets from one of the star's original instruments.
Alister Atkin, from Kent, made five guitars as part of a project to help build a recording studio in Holly's home town of Lubbock, Texas.
The Buddy Holly Guitar Foundation sent the frets to Mr Atkin to be inlaid into three of the replica J45 guitars.
"Buddy Holly has touched these frets so it's quite weird when you are inlaying them and holding them," said Mr Atkin.
The frets have been put into the sound holes of three of the five replicas, which are to be given to ex-Clash guitarist Mick Jones, Texas singer Sharleen Spiteri and guitarist Albert Lee.
Each replica guitar, which would cost about £2,000 to buy, has its own leather jacket cover which goes around the outside of the instrument.
The name of the song the guitar is named after is written on the jacket which is consistent with the Buddy Holly original J45.
'Inspirational' music
Mr Atkin, who is based in Canterbury, received an email from The Buddy Holly Guitar Foundation asking him if he would like to build the replica acoustic guitars.
"They wanted an English maker because of Buddy Holly's fame over here," said Mr Atkin.
"He got such a huge response to his music over here. When you think of who it inspired - there's a good chance The Beatles' music may not have sounded the way it sounded if not for Buddy Holly."
Mr Atkins believes that Buddy Holly would not have performed on stage with a J45 guitar which is acoustic.
"As I understand it, the J45 was used a lot for recording and song writing," said Mr Atkin.
"It would have been something he would have travelled with and written on and, in the studio it would have been something he would have had around."
All five replica J45s will go to players who will use the guitars to raise money for the Buddy Holly Guitar Foundation to help build the Lubbock studio.
The studio was something Buddy Holly had wished for before his death in a plane crash more than 50 years ago.