More than 130 Kent schools 'need to improve'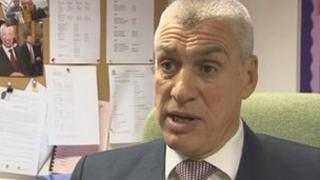 Teams of specialist advisers are being sent into more than 130 schools in Kent that are underperforming.
Kent County Council said it would provide the extra support in schools to drive up standards.
The authority said it had been impressed by London Challenge, a project to improve results in the capital's schools.
A council spokesman said some of its 592 schools were not meeting the high standards children deserved.
He added: "There is much to celebrate in Kent schools, with evidence of outstanding leadership and classroom practice.
'Not fast enough'
"Some schools face specific challenges. We accept that part of our leadership role is to help them overcome these."
Stuart Pywell, the head of St Stephen's Junior School, said action should have been taken sooner.
He said: "In the last five years it would have been nice to see Kent actually taking a stance against underperformance
"I think Kent has failed 20% of its population of primary school children for the last four or five years."
But councillor Mike Whiting, the cabinet member for education, said: "Not all of those 132 schools would be classed as underperforming.
"Some are performing well but just not fast enough to be able to keep up with where they need to be in a few years time."