Folkestone Harbour Board unveils plan for seafront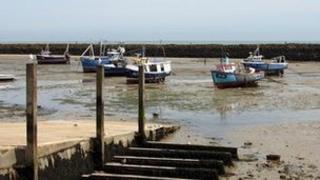 A plan to revamp Folkestone Harbour in Kent has been unveiled to the public.
Roger de Haan's Folkestone Harbour Company has put forward proposals to build houses, flats, shops and leisure facilities along the seafront.
Philip Carter, the president of the campaign group Go Folkestone, said: "This plan will lift Folkestone back up to a quality seaside town.
"This gives us renewed hope because this is a plan that will happen. It is achievable and it will evolve."
'Psychological blow'
Former Saga boss Roger de Haan bought Folkestone Harbour for £11m in August 2004.
The stretch earmarked for development includes the former Rotunda amusement park, the harbour and old ferry port.
Mr Carter said it had been a "big psychological blow" when passenger ferry crossings from Folkestone to Boulogne stopped in 2000.
But he said he hoped if planning permission was granted, developers would invest in the scheme.
A three-day public exhibition has opened at the Triennial Visitor Centre in Tontine Street.