Facebook helps reunite sisters after 60 years apart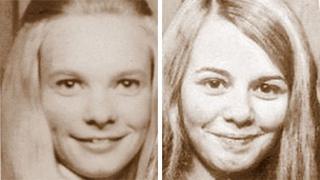 Two sisters from Kent who were separated as children are to meet after finding each other on Facebook.
When their parents split up, Jan Stevens and her brother were placed in care but Evelyn Plumridge, who was the youngest, stayed with their mother.
Ms Stevens now lives in Canada and Ms Plumridge is in Gravesend. The sisters have been trying to trace each other for more than 40 years.
They are due to finally meet just in time for Christmas.
The sisters were very young when they were separated. Ms Stevens was about 18 months old and Ms Plumridge a baby aged about six months.
'Never give up'
Ms Stevens, now 62, spent seven years in an orphanage before she was sent to live with a new family in Canada at the age of eight.
Their brother remained in the care of the children's home until he reached 16.
Over the years both women have tried, with the help of their families, to find each other, but without success.
Ms Plumridge, 59, said: "I promised my mum I would never give up looking."
She put adverts in newspapers, contacted social services, adoption agencies and the Salvation Army, all to no avail.
Eventually it was Ms Plumridge's daughter who encouraged her to join Facebook. A couple of months later she received a message saying: "I think you are my sister."
It also said: "If you are my sister can I ring you?"
"I sent back a big yes," said Ms Plumridge. Ms Stevens rang her younger sister straight away.
Since then they have been talking every week on the phone and they send messages to each other on Facebook every day.
'So alike'
They have found out that although they have been apart for many years, they are very similar.
"We are so alike," said Ms Plumridge.
"Jan is a paraplegic and I'm disabled as well - we both had accidents in the same year and hurt our backs.
"She wears her hair the same as me and we like the same things."
Now Ms Stevens is due to arrive at Gatwick Airport on 21 December and plans to be in England for five weeks.
"We are going to be spending our first Christmas together," said Ms Plumridge.
Ms Stevens said: "Travel will be difficult for me but wild horses couldn't keep me from coming to see my sister."