Kent Police to use virtual court to ban drink drivers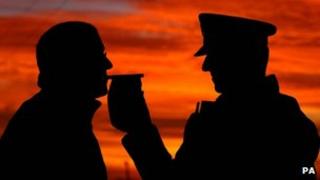 People caught drinking and driving in Kent could lose their licence within hours of sobering up, police have said.
Court technology will be used to put those charged with drinking and driving before magistrates via videolink.
If they are found guilty then the magistrate has the power to ban the defendant from driving immediately.
The "virtual court" system was trialled as part of a crackdown last year and it has been recently backed by the Ministry of Justice.
Deputy Chief Constable Alan Pughsley said: "Usually motorists will be charged with drink-driving and be bailed to appear before the court some weeks later.
"This means until a guilty verdict is reached they are free to drive.
"The use of the virtual court system means that the defendant risks losing their licence on the day of charge."
After seeing the virtual court system in action in Kent, justice minister Nick Herbert said it would "ensure crimes are dealt with more quickly and effectively".
It is hoped the entire court system will go digital by spring 2012.