North Farm retail park traders' plea to deal with traffic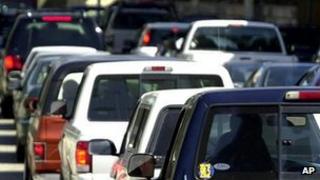 Traders on a Kent retail park have demanded more action over traffic problems they said were caused by two big-name stores moving in.
Tunbridge Wells Borough Council has revealed some short-term measures to help ease congestion on North Farm Industrial Estate in Tunbridge Wells.
They include keeping clear signs on roads, CCTV cameras to monitor traffic and taking out a pedestrian crossing.
However, many traders said the measures were not enough.
Traders have been calling for action to ease traffic congestion around the A21 since December 2010 amid fears customers are being driven away.
They said traffic problems escalated when John Lewis and Marks and Spencer opened flagship stores on the estate around that time.
'Terrible, terrible mess'
They said that with Asda due to move to the retail park over the next few weeks, they feared the situation could get worse.
Trader Simon Broad said: "The traffic on North Farm is horrendous, it doesn't matter what time of day you travel along this road it's queued up pretty much from seven in the morning until 6 o'clock at night. It's a terrible, terrible mess."
Hilary Smith, from Tunbridge Wells Borough Council, said that traders had been advised of short-term measures being put in place to ease congestion, but added there were no easy solutions to the current traffic problems.
"We are keen to emphasise that the council wants to work with the businesses themselves to improve the traffic flow at North Farm."
Mr Broad said: "I know they've got short, medium and long-term plans, from what I've seen of the short term plans they are not going to make any difference at all."