Public sector workers in Kent protest over pension changes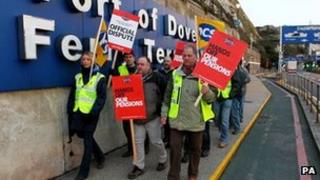 Thousands of public sector workers have joined in protests across Kent against changes to their pensions.
The largest march took place in Maidstone with rallies also taking place in Canterbury, Dover, Maidstone, Chatham and Sittingbourne.
Almost half the county's schools were closed or partially closed. UK Border Agency staff at Dover's Eastern Docks also joined the day of action.
Conservative MP Michael Fallon said the strike was unnecessary.
Mr Fallon, the MP for Sevenoaks, said: "It has caused massive inconvenience, for parents particularly."
The government said the cost of public service pensions had risen by a third in a decade, so changes were needed.
Unions object to government plans to make their members pay more and work longer to earn their pensions.
'Lot of anger'
More than 300 schools across Kent and Medway were either partially or fully closed, out of a total of 701.
Protests also took place at hospitals in Medway, Canterbury and Ashford.
Speaking on the picket line at Medway Maritime Hospital, Andrew Travers, a hospital porter, said: "There's a lot of anger in the public sector about the government expecting us to pay more for longer and getting a smaller pension."
South East Coast Ambulance Service asked people only to call in life-threatening emergencies.
Director of clinical operations Andy Newton said: "We are responding to all 999 calls.
"However, to ensure that potentially life-threatening emergencies get the response they need, we continue to ask the public to consider very carefully whether they need an ambulance or can seek alternative assistance."
Meanwhile, passengers arriving at the Port of Dover faced normal travel conditions despite union officials saying there was huge support for the strike.
Officials at the port said all services with P&O Ferries to Calais and DFDS Seaways sailings to Dunkirk were "running well and to time" with space available.
'Security weakened'
There were no queues on roads leading into the port.
The Public and Commercial Services (PCS) union said it believed border controls were being staffed by a "hastily gathered" group of police officers, private contractors and volunteers with little training.
Pete Norris, PCS branch secretary for south east England, said they had received nearly 100% support among members.
He said: "Security must be weakened by the absence of our very skilled workers. The government is telling us they have had contingencies in place.
"Frankly we can't see that they could put contingencies in place that would replicate what we do on a daily basis."
Eurostar passengers departing from the UK were not affected by the strike. Eurotunnel said there had been no delays and traffic was "flowing perfectly smooth".
Part-time teacher and NASUWT representative Julia Harris, who took part in the Maidstone protest, said: "We have to be concerned about the very young, those in their 20s who have just joined, they have mortgages, they want to start families.
"I don't know what they [the government] are doing. We wanted meaningful negotiation, there was room for manoeuvre but nothing happened."
Chancellor George Osborne urged unions on Wednesday to "get back round the negotiating table" and said the strike was "not going to achieve anything".