Homeless numbers are 'vastly underestimated'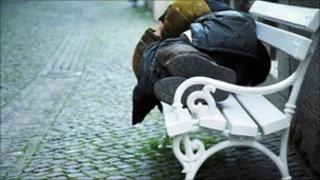 The official number of homeless people has been "vastly underestimated", said a Kent charity.
In 2010 24 homeless people were recorded. The latest figures from Porchlight put the number at 124.
Porchlight compiled numbers of rough sleepers from early morning outreach sessions and agreed a "typical night" for each area.
Porchlight is now supplying figures to Kent's local authories which are being used to build up a national picture.
The charity has been working with local authorities to compile what it said were "the most accurate rough sleeper figures to date".
All Kent's local authorities decided to use estimates of the numbers of homeless people based on the number of people Porchlight's rough sleeper service found.
Ms Bryant, from Porchlight, said: "The previous guidelines and street count process has always meant official figures vastly underestimated the scale of the problem.
"It was a huge frustration for us."