Starving lurcher dog reunited with Kent owner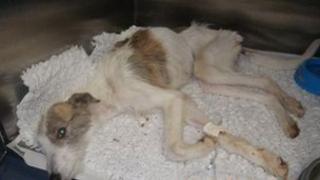 A stolen dog that was found dumped in Kent after losing half its body weight, has been reunited with its owner.
The male lurcher, which was so thin its bones were showing through its skin, was found abandoned in Church Road, Hartley on 13 November.
Staff at the RSPCA Leybourne animal centre were it was treated said it was "the thinnest dog" they had ever seen.
A spokeswoman for the RSPCA said the dog was reunited with its owner on Thursday.
She said the man called the centre and then sent a picture of the dog, named Reuben by staff, as a puppy.
"The owner saw the publicity on the BBC and got in touch.
"They were delightfully reunited. The dog still has got a long way to go but we really happy that he's back with his owner."