Kent council employs debt collector for library fines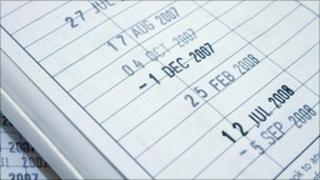 Kent County Council (KCC) has employed an American debt collection company to help recover unpaid library fines.
Libraries in Kent are owed more than £100,000 in fines for the late return of books, CDs and DVDs.
According to KCC, one in 10 books are returned late and so it is piloting a new scheme to recover stock and fines.
From January, a list of the people who fail to respond to reminder letters will be passed to Unique Management collection agency.
'Declare an amnesty'
Cath Anley, head of KCC Libraries and archives at the council, said: "There are an awful lot of reasons somebody may return a book a day or a week late, but of more concern to us are the items that are not returned after a significant period.
"We have identified a company that works with lots of library authorities and they have a track record of getting a good percentage of the stock back or indeed unrecovered charges.
"People are more likely to respond to a company writing to them with headed paper that is not Kent County Council that asks them to return the items or pay the replacement cost if it's something they can't return."
Ian Driver, manager of Thanet Citizens' Advice Bureau, said he was not convinced the pilot was a good idea.
"I think it would be a lot easier and a lot cheaper if they did what other local authorities do in a similar situation and declare an amnesty," he said.
"They [KCC] are certainly going to be paying fees to recover £100,000. How much will it cost them?"
KCC have not revealed how much they will be paying Unique Management for their services.
KCC charges 15p per day for books that are returned late, up to a maximum of £6. For DVDs the rate is 50p.
The largest fine incurred in Kent last year was the maximum £25 issued for an item that was more than 50 days overdue.
A Kent County Council spokesman said: "We are pleased to say most people return library books on time. Around 84% of our items are returned on or before their due date.
"For many years we have then referred customers who still have not returned their items to a private company who seek to recover the overdue items and the outstanding fines.
"Starting early in 2012 we are trialling a new company - Unique Management Services. Once this new contract is in place the third letter will notify the customer that we will shortly refer their account to UMS."