Starving lurcher dog found dumped in Hartley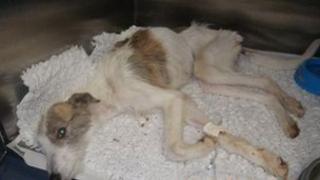 A starving dog weighing about half its normal body weight has been found dumped in Kent.
The male lurcher was so thin that his bones had broken through his skin, and he was suffering from fur loss and a skin condition, the RSPCA said.
The dog, who has been named Reuben by RSPCA staff, was found abandoned in Church Road, Hartley.
Christine Dooley, of the RSPCA Leybourne animal centre, said he was "the thinnest dog" she had ever seen.
"After two days in our care he weighed just 8kg. The vet has told us that it will cost around £1,000 to treat him and we are appealing to the public for help with this."
Anyone who knows who the dog belonged to or who dumped him on 13 November is asked to contact the RSPCA.