French authority in bid to save SeaFrance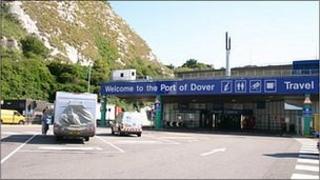 A French local authority has stepped in with an offer of €10m (£8.6m) to help save SeaFrance.
The Nord pas de Calais has offered the money dependent on an investment by the ferry company's parent - rail operator SNCF - and the French government.
On 15 November SeaFrance ferry services were halted after a French court rejected a £5m bid by rival firm DFDS to take over the company.
A second offer, organised by the CFDT union, was also rejected.
The Tribunal de Commerce was given the task of making a decision on the firm's future after the European Commission ruled that a €200m (£176m) bailout by the French government was illegal.
Not resumed
The court declared the ferry firm bankrupt but said it could continue to operate services until 28 January.
The judge set a new deadline of 12 December for improved offers, with a final deadline of 28 January when SeaFrance will cease operating if no offers are forthcoming.
SeaFrance services were initially suspended on 15 November for 40 hours, but the company has not resumed sailings on the cross-channel route.
The decision to restart SeaFrance services between Dover and Calais "rests with the administrators", said the company.