Anthony Raynor death: Tribute to 'loving grandfather'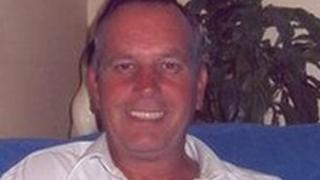 The family of a pedestrian killed in a road accident in Canterbury has been paying tribute to him.
Anthony Raynor, 50, known as Tony, was killed as he walked along the A28 near Upstreet on 10 November.
His daughter, Mandy Colson, who is pregnant, said: "His death has left a huge hole in our lives.
"I had just told him I was expecting another child so I am so very upset that my unborn baby will never get to meet him," she said.
Mr Raynor was struck by a car as he walked down the unlit rural road.
"Tony was a wonderful dad of three and a loving grandfather to two children," said Mrs Colson.