Astraeus Airlines in administration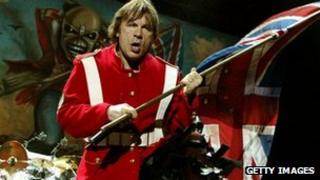 An airline whose pilots included the lead singer of Iron Maiden has gone into administration.
Astraeus Airlines, which is based in Crawley, Sussex, announced it had ceased operations.
The company, which leased aeroplanes to other carriers, had singer Bruce Dickinson on its books as a pilot and marketing director.
Chief executive Hugh Parry blamed "lower than expected" business during the summer for the decision.
He said staff had "battled hard" to save Astraeus, but a lack of contracts for this winter and some "extremely bad luck" with a number of technical issues also contributed to the company's decline.
"Every effort has been made to ensure that any passengers affected already have or will be able to complete their journey," he added.
Mr Dickinson flew the airline's last flight from Jeddah, Saudi Arabia, to Manchester Airport on Monday.
In the past he had used the airline to transport his band during a tour in spring 2008.
He also flew the Liverpool football squad to Naples in October 2010 for a Europa League match.
Astraeus Airlines was founded in 2002 and switched to leasing aeroplanes in 2008.