Traffic ban proposal for Westgate Towers in Canterbury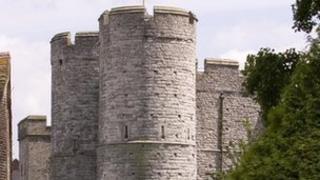 Plans to protect the medieval heritage of Canterbury by banning traffic passing through the Westgate Towers have been put forward.
The city council is considering creating a pedestrian zone around the grade-I listed towers.
It said tourist coaches frequently misjudged the size of the archway and became stuck, eroding the brickwork.
Built in 1380, the structure is thought to be the largest surviving medieval gateway in the UK.
A council spokesman said: "The project represents probably the most significant change in terms of the road network in Canterbury for very many years.
"As such, the decision to proceed involves a degree of risk and requires a bold decision."
Councillors have proposed a 12-month trial period and will meet next month before making a final decision.