Gravesend Heritage Quarter development plans revised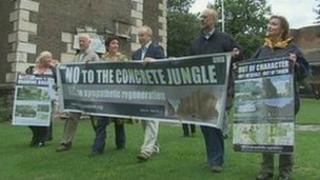 Revised plans to revamp a town centre in Kent have been proposed after the original scheme was rejected following a campaign by local residents.
The developers said they would be more in keeping with the character of the Heritage Quarter in Gravesend.
Richard Hughes, development manager at Edinburgh House, said there would be leisure and restaurant quarters, a new hotel and residential accommodation.
He added they would be "engaging with the public" over the coming months.
The plans for the development are being revised by architect Andy Williams, who specialises in developments surrounding historic environments.
Gravesham Borough Council threw out the original £120m scheme for the Heritage Quarter in September 2010, arguing it was too large and not sympathetic to the existing architecture.
The original proposal included provision for 400 flats, a hotel, restaurant and leisure facilities, shops and offices, as well as a new town square and parking for 1,000 cars.
Martin McKay, spokesman for Urban Gravesham, which led the opposition campaign, said he had yet to see details of the new scheme but he hoped it would not lead to "years more planning blight".