Cat swung by tail in Ramsgate still traumatised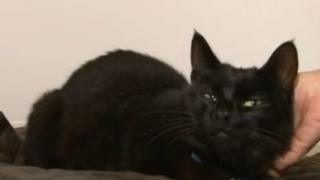 A cat swung round by its tail in an incident captured on CCTV in Kent is still traumatised nearly three weeks afterwards.
The shocking attack was recorded outside the Camden Arms pub in La Belle Alliance Square, Ramsgate, on the morning of 29 October.
Although the terrified cat, called Mowgli, was not physically injured, the footage clearly showed him being spun around by a man for more than 30 seconds.
His owner Michelle Buchanan said he had been left "emotionally scarred" by his ordeal and had not ventured outside since it happened.
She said if he did not fully recover then she would consider seeking help from an animal behaviourist.
'Post traumatic stress'
The two-year-old animal was held at arm's length, with his head narrowly missing parked cars.
Ms Buchanan said although he was a "really friendly" cat, he now just sat on her bed all the time.
The long-term effect on Mowgli is uncertain, but it is clear he would have gone through an enormous amount of stress and fear during the attack.
Jon Bowen, a veterinary surgeon and behaviourist at the Royal Veterinary College, said it could take weeks or even months for Mowgli to recover and he may always be very wary of humans.
He said it was best to allow cats to redevelop their confidence naturally, and to provide them with an environment that keeps them safe in the home without any pressure.
"He probably will return to going out, but clearly human beings have hurt it," he said.
"Cats are commonly abused by people who regard them as a nuisance or pest. They don't always have a good relationship with humans."
Vicky Halls, a cat behaviour counsellor, added that owners were not always aware that psychological assistance for their pets was available, but it was possible Mowgli could "heal himself as time goes by".
She likened a single stressful event to post traumatic stress disorder.
"It could associate another stimulus with the situation," Ms Halls said, adding that cats needed "freedom from danger".
"Every single case would be different... there is no such thing as a standard way of dealing with it."