SeaFrance services to resume after £5m buyout rejected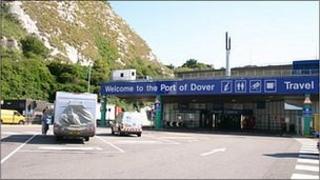 SeaFrance's Dover to Calais ferries are set to resume after a French court rejected a £5m bid by rival firm DFDS to take over the company.
The Tribunal de Commerce in Paris declared the French ferry firm bankrupt but said it could continue to operate services until 28 January.
A second offer, organised by the CFDT union, was also rejected by the court.
SeaFrance said commercial activities would resume as soon as safety and security issues were resolved.
Scheduled services were halted pending the court's decision.
A statement on SeaFrance's website read: "We are conscious of the inconvenience this situation is causing and we apologise for this."
The Tribunal de Commerce was given the task of making a decision on the firm's future after the European Commission ruled that a €200m (£176m) bailout by the French Government was illegal.
'Not satisfactory'
A SeaFrance spokeswoman said: "SeaFrance welcomes today's decision of the Tribunal de Commerce to extend the period of full administration in order to find a solution for the company's future.
"This will enable the alternatives to be fully explored and any new offers received."
A spokesman for Danish ferry operator DFDS, which tabled a joint bid with shipping company Louis Dreyfus Armateurs, said the court ruled that the two bids "were not satisfactory".
She added: "The court has declared the company bankrupt, although operations can continue until 28 January 2012.
"The court, however, provides an opportunity to submit revised bids before 12 December 2011.
"DFDS and Louis Dreyfus Armateurs have noted the court's decision and will consider potential next steps."
SeaFrance, which employs 1,650 staff on both sides of the Channel, went into receivership last year.
The company has four ferries sailing between Dover and Calais, carrying more than 3.5 million passengers a year.
SeaFrance could cease trading on 29 January if a buyout offer is not accepted.