Charity box in memory of Daniel Holkham stolen from Kent pub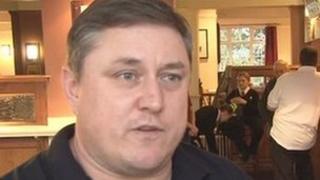 The father of a Kent soldier killed in Afghanistan said the theft of a charity box collecting money in his son's memory was "despicable".
Rodney Holkham said he could not believe the tin was taken from the Harps Inn on the Isle of Sheppey over the Remembrance weekend.
Rifleman Daniel Holkham, 19, died in an explosion in Sangin in March 2010.
His family, from the island, set up the Dannyboy Trust, which supports youth and community groups.
'Stoop that low'
Mr Holkham said: "I couldn't believe that anyone would do it, knowing that the money is being given in the name of one of these fallen soldiers."
Landlord Peter Ganderton said the charity box containing about £100 was probably taken by a group of young people on Saturday evening.
He said: "On Remembrance weekend, I cannot believe that someone would stoop that low."
Rifleman Holkham, who was with 3rd Battalion The Rifles, was serving alongside his two brothers.
He was weeks away from the end of his six-month tour when he died.
Paul Monaf, the editor of a military magazine in Maidstone, has agreed to make a £100 donation to the trust to replace the stolen cash.