Kent County Council 'to switch off 5,000 street lights'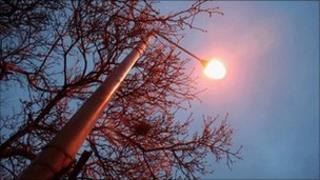 Up to 5,000 street lights in Kent could be disconnected and removed in a bid to save money and reduce carbon emissions.
Kent County Council (KCC) has set out to reduce its street lighting energy costs of £5.1m a year.
A council report said using 70,000 lights for only part of the night could cut the bill by 10% and removing 5,000 lights could reduce the bill by 5%.
The local authority currently has 118,500 street lights and 29,000 lit signs and bollards.
'Crime fears'
It said lights that could be removed were on roads leading to or out of local villages and their removal would have "no adverse impact on the locality".
The report also said lights within villages would remain.
Under the plans, the council would work to reduce the perception that such a policy would increase crashes and reduce personal safety.
The report said: "Where street lights have been dimmed or switched off, data shows that crashes and crime have not increased. There is a clear difference between perception and actual data."
The council's environment committee is due to consider the plans on 22 November.