Prison inspectors criticise HMP Swaleside over training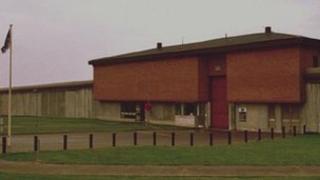 A Kent jail that is designated as a training prison has been criticised for not providing enough training.
In a report, Chief Inspector of Prisons Nick Hardwick said HMP Swaleside, on Sheppey, only had activity to meet the needs of 80% of the prison population.
The same concerns were raised in 2008 and these concerns remained, he added.
National Offender Management Service chief executive, Michael Spurr, said staff at the Category B men's jail would work to make improvements.
Mr Hardwick said: "This is a positive report. Swaleside has been a safe establishment characterised by good relationships between staff and prisoners, although the training element provided has not been good enough."
'Locked in cells'
He said inspectors found Swaleside seemed "fundamentally safe", staff-prisoner relationships were strong, prisoners with a disability were well-supported, and healthcare access had improved.
But a quarter of prisoners were found locked in cells during the working day, although this had improved since the last inspection.
The report, published on Tuesday following an unannounced inspection in July, also said the number of reported violent incidents was significant, despite the prison being essentially safe.
Inspectors said provision of learning and skills lacked co-ordination.
Mr Spurr said: ""I am pleased that the chief inspector recognises that, despite the recent expansion, Swaleside is fundamentally safe with strong staff/prisoner relationships and a respectful environment.
"The governor and his staff will continue to work to improve the training and resettlement facilities. All these factors will help to reduce the likelihood of re-offending and thereby protect the public."