Margate tour for the Queen and Duke of Edinburgh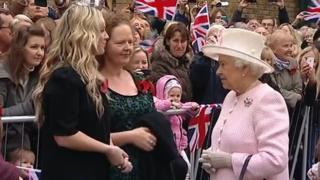 The Queen and Duke of Edinburgh have been given a tour around Margate, including the town's new Turner Contemporary art gallery.
The royal couple were shown some of the regeneration work that had taken place in the Old Town, including the new shops opening up in the area.
Shop owner Maxine Sutton said the visit meant "such a lot".
After lunch at the gallery, the Queen and Prince Philip met RNLI crews and their families at the lifeboat station.
In the past 18 months 35 new businesses have opened up in the Old Town as part of the regeneration in the area.
'Not finished'
The Queen visited the Cup Cake Cafe as part of her tour around Margate's Old Town.
Lisa Hemingway, from the cafe, said: "There's always negative stuff about Margate but we're in the middle of a regeneration, it's not finished."
The royal party then moved on to the Turner Contemporary art gallery where they heard about the work of Rodin, whose work - The Kiss - is on display in the foyer.
The Queen and Prince Phillip met artist Tracey Emin at the new £17m art gallery which was opened in April.
Emin said: "Until the Turner came, Margate couldn't have got any lower, it was in a terrible state.
"Now the Turner has come, everything is on the up, [even] the beach has been cleaned."
A plaque, unveiled by the Queen at the gallery, marks the royal visit to Margate.
More than 300,000 people have visited Margate's new gallery since it was opened by Emin in April, double the number expected for the whole of the first year.