Margate prepares for Queen's first visit since 1993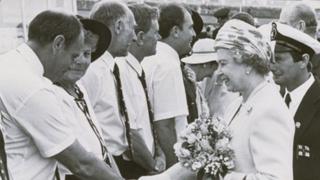 When the Queen visits Margate on Friday for the first time in 18 years, she will see a different town.
The coastal resort has gone through a dramatic regeneration in recent years.
Most notably millions of pounds have been spent on building the Turner Contemporary gallery on the seafront.
Despite worries before its opening in April it has proved an award-winning success, with 300,000 visitors though its doors.
Plans are also under way to develop the derelict amusement park, Dreamland, and the seafront with new shops, bars and offices.
Prior to the Queen's visit, workers have been out in force, touching-up paint work, hanging bunting and even clearing away rotting seaweed from the shore.
In 1993 the Queen and Duke of Edinburgh visited Margate as part of a tour of East Kent, which included Ramsgate.
June Kilvington, 80, former Broadstairs mayoress, was one of a number of dignitaries to meet her.
She said: "I never even dreamed I would be meeting the Queen.
"We were down on the front as she came off the boat. She stepped back and said something about the amount of chains on display."
Rod Oates, who was a trustee of the Royal Temple Yacht Club, described the visit as his most memorable day in the club.
He said: "Prince Philip said, 'good morning, are you joining us for lunch old boy?'
"I told him I wasn't... He said, 'I'll save you some and let you know when I leave'."
Mr Oates said Prince Phillip held true to his promise.
"Just as they were leaving he looked over the head of a number of people and said, 'you'd better be quick old boy, they're taking the plate away'," he said.
During Friday's trip the Queen will take a tour around Margate's Old Town, meet ex-servicemen and women and also visit the RNLI Lifeboat Station.
But it will be her visit to the new Turner Contemporary, housing Rodin's The Kiss, which will be the highlight of her visit.
Despite the general excitement her visit has caused it has not been without its share of disruption.
Daniel Burke, who is a barman at the Bull's Head, said roads would be closed around the pub.
"We've had to give lists of names of staff and people that live in the flats above to local police," he said.
"Literally, if your name's not down they're not going to let us into the pub in the morning."