Dreamland's sign restoration starts in Margate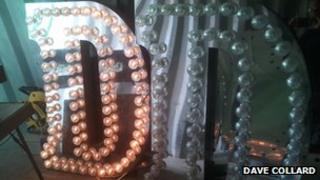 Restoration work on the famous vertical sign at Dreamland amusement park in Margate has got under way.
The letters were installed in the 1970s on the 80ft (24m) fin of the cinema building on the site, replacing the original 1930s neon lettering.
Each letter contains about 40 to 50 bulbs and it will take restorers a day to rewire and re-solder one letter.
Just under 1,000 bulbs will be used to spell the word Dreamland down both sides of the fin.
Nick Bushell is contracts manager for Coombs (Canterbury) Limited, who is carrying out the work in a temporary workshop at the back of the old theme park site.
'Surprise and revelation'
He said: "The bulbs themselves are all original and they are all around the Dreamland park. So there is a plentiful supply of bulbs on site and we are reusing everything we can."
The team got a surprise when they first started work on the 4ft (1.2m) high letters.
"They were originally a yellow-coloured paint which most people will probably remember, but when we started to remove them we found there was a mirrored finish beneath the yellow paint," said Mr Bushell.
"Thanet Council conservation decided that it would be a nice idea to strip them back to the mirror finish.
Jan Leandro from the Dreamland Trust said: When I saw the silver background it was very reflective almost like a mirror ball.
"It was a real surprise and revelation to me and I realised when we see those in situ against the red brick that is going to be really stunning."
Each letter is being tested and then remounted on the side of the building one at a time.
As each layer of scaffolding comes down another letter is revealed. The team hopes to have the completed sign installed in time for Christmas.
Ms Leandro said the restoration of the Dreamland sign would be an indication to Margate and to Dreamland supporters that the old site was coming back to life.
"It is going to be slightly different and it's kind of nice that although they are restored there is something new to show people."