Worst recycler Ashford vows to get better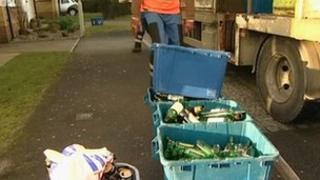 A Kent town has vowed to do better after coming bottom of England's recycling table for a second year.
Ashford recycles only 14% of household waste - down from 15% last year - according to the Department for Environment, Food and Rural Affairs.
Deputy council leader Gerry Clarkson said it would go up to at least 40% after a new waste collection contract came into operation in 2013.
The Greens said Ashford was the only town in Kent which was recycling less.
Rochford District Council in Essex came top of this year's league table, with 66% of its household waste being sent for recycling, reuse or composting.
But Mr Clarkson said the government figures were misleading because they did not take into account that 85% of Ashford's waste went to the Allington incinerator.
'Get act together'
"It is not sent to landfill and yet we get no credit for this," he said.
He added that the borough's main waste recycling centre at Cobbs Wood Industrial Estate was run by Kent County Council so nothing taken there was included in Ashford's figures.
The council said 9,000 more households had been included in its blue box recycling scheme since last year.
It added that the new waste collection contract in 2013 would provide higher levels of recycling and composting.
But Kent Green Party spokeswoman Hazel Dawe said it needed to get its act together to cover the rest of the borough.
"There are two other key things they could do," she said.
"One is to introduce a green waste and cardboard collection and compost it themselves.
"The other thing is going to fortnightly waste collection. The evidence is that it works - it increases recycling if the waste is collected fortnightly."