Canterbury bomb hoaxes arrested pair released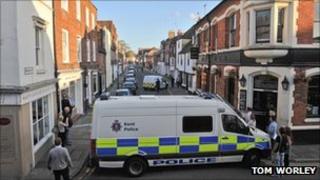 Two people who were arrested in connection with two bomb hoaxes that caused a major alert in Canterbury have been released without charge.
Two fake devices were planted in the city on 26 August.
Trains were halted and parts of the city cleared while police investigated the incidents.
Kent Police arrested a 41-year-old woman and a man, aged 52, on Friday following an appeal for information on the BBC's Crimewatch programme.
A spokeswoman for the force said: "Police investigating the bomb hoaxes in Canterbury on Friday 26 August 2011 have released without charge the 41-year-old woman and 52-year-old-man who were arrested on Friday 4 November."
'Maximum disruption'
Officers raided two properties after they received a number of phone calls from members of the public in response to the Crimewatch appeal.
A major alert began in Canterbury on 26 August when a hoax device was found at the railway line in Old Dover Road.
Another was then discovered about an hour later near a fire that started in Marks & Spencer.
The package at Old Dover Road was confirmed as a hoax device.
Police said the smoke grenade which was found to have been activated in Marks and Spencer had been designed to cause maximum disruption.
Man sought
New CCTV footage was also released during the Crimewatch programme, featuring a group of three women who bought three pay-as-you-go mobile phones in a shop in London's West End on 14 August, which were used in the execution of the hoaxes.
Detectives said on Tuesday the three women had been traced and spoken to.
A man also identified on CCTV and who is suspected of planting the device in Marks & Spencer is still being sought.
Officers are unclear about the motive behind the hoaxes but have said that those responsible were organised with serious and meticulous planning.
Det Ch Inspector Tom Richards, of Kent Police, said: "We have a number of new lines of inquiry which are taking this investigation forward, and my team are working hard following up all the new leads and investigative opportunities we now have."