Tunbridge Wells Borough Council bans tweets in meetings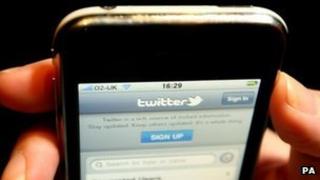 Councillors in Kent have been told not to use the social networking site Twitter during official meetings.
Mayor of Tunbridge Wells Elizabeth Thomas asked them to refrain from using their mobile phones following complaints from other councillors.
Bob Atwood, leader of the borough council, added it was "only right and proper, and a matter of courtesy" that they should focus on the meeting.
He said he had noticed quite a few people "tweeting or texting".
Mr Atwood said the situation came to a head at the last council meeting.
"Just before the meeting started I asked the mayor if she wouldn't mind extending her usual announcement to ask people not to tweet or text."
'Out of touch'
He said the request was just to council members, not to members of the public or anyone sitting around the outside of the meeting.
He added that mobile phones were supposed to be switched off during council meetings anyway for hearing loop purposes.
Councillor Sean Holden, who represents Benenden and Cranbrook, said the decision was "out of touch with modern society".
"We're not talking about people phoning... having conversations, we're talking about communicating by text," he said.
"The speaker of the House of Commons has allowed the use of electronic communication devices in the chamber in the Commons."
Mr Holden added: "We are dealing here with a modern development of communication which can actually bring the people we represent into the chamber."
Mr Atwood said it was up to the mayor as to how she wanted to control the meetings, but she was "fully on-side" with the ban on mobile phones.
"I have a sheet full of tweets, all of whom support me, including one of the councillors who actually was guilty of tweeting," he added.