London 2012: Torch stop at Margate Turner Contemporary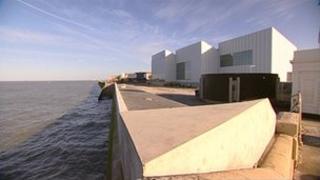 The Olympic flame will stop off at the Turner Contemporary gallery in Margate as part of the torch relay.
The flame will arrive in Kent from Sussex on 17 July as part of the 8,000-mile relay around the British Isles.
While in Kent it will travel through 37 of the county's towns and villages, stopping at the Turner Contemporary on 19 July.
The following day it will be taken on a paralympic cycle around the circuit at Brands Hatch, near West Kingsdown.
One of the areas the torch will be passing through is Gravesham, and people in the area are delighted they will be getting a glimpse of the flame.
Melanie Norris, of Gravesham Borough Council, said: "It means everything to the borough, we are really pleased.
"We've been working on the 2012 pledge for two years and we feel it is fantastic for the town to have achieved the torch coming through."
The Olympic flame is due to arrive in the UK from Greece on 18 May 2012 and the relay will start on 19 May at Land's End, Cornwall.
It will travel for about 12 hours a day for 70 days on the relay route carried by 8,000 torchbearers.
The flame will arrive at the Olympic Stadium in east London for the opening ceremony on 27 July, 2012.
Before the Kent relay, the torch will come to Tunbridge Wells on 17 July as part of its tour around Sussex.
The London Organising Committee of the Olympic and Paralympic Games (Locog) says about 95% of the population will be within a one-hour journey of the relay.
A nomination process will be used to pick the 8,000 torchbearers who will carry the Olympic flame around Britain.