Kent gets back £10m Dexia deposit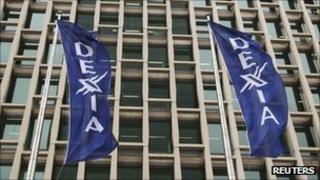 The troubled bank Dexia has returned £10m to Kent County Council (KCC) after being bailed out by the French, Belgian and Luxembourg governments.
The council said the cash, deposited in 2007, was returned on the planned maturity date of 31 October.
There were fears early last month that Belgian bank Dexia would go bankrupt as a result of the eurozone crisis because of its exposure to Greek debt.
The three governments later agreed to the multi-billion euro bailout.
KCC said its £10m deposit was restructured in 2009 and guaranteed by France, Belgium and Luxembourg.
It said last month said it was confident the money would be returned in full.
"Kent County Council did not, at any stage, adjust its budget because of these deposits, and our financial position remains unchanged," said Councillor John Simmonds.
The council also invested £50m in three Icelandic banks, Heritable, Landsbanki and Glitnir, which collapsed in 2008.
The investment was more than any other public body in the UK.
Last week the council won a victory in Iceland's Supreme Court, which confirmed its status as a preferred creditor and said it expected to get back most of the £50m.