East Kent to get £40m to fund jobs growth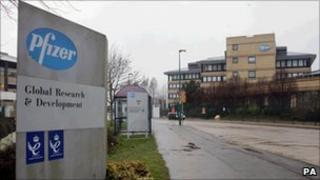 Firms in East Kent will be able to bid for a slice of a £40m government grant which it is hoped will create or safeguard about 5,000 jobs.
Kent County Council (KCC), said it had bid for the Regional Growth Fund cash with Dover, Canterbury, Shepway and Thanet councils.
"This is a magnificent boost for East Kent and for the whole of the county," KCC's Tory leader Paul Carter said.
The £40m is part of £950m funding announced across England's regions.
East Kent was hit by the announcement in February that drugs giant Pfizer was to close its Sandwich base, with the loss of more than 2,000 jobs.
Consultants have said the region could lose a total of 13,700 jobs by 2018 with the closure of Pfizer, the decommissioning of Dungeness nuclear power station and public sector cuts.
Speaking in the House of Commons on Monday, Conservative MP for Maidstone and the Weald Helen Grant said many companies in her constituency were finding it "very hard to cope financially".
Communities Secretary Eric Pickles told her the £40m set aside for east Kent was one of the largest cash awards.
The Discovery Park Enterprise Zone has already been set up on the Pfizer site, with the first businesses opening in the summer.
Mr Carter said details of how firms could bid for the new funding would be announced at a later date.
"With a focus on supporting existing businesses to expand and new businesses to be created around life sciences and greentech industries, this very much builds on our work to market and promote the Discovery Park Enterprise Zone," he said.
"The funding is also designed to support business critical infrastructure, such as high speed rail enhancements from Ashford to coastal east Kent."
A separate undisclosed sum is to go to Vestas Technology, which wants to build a wind turbine factory on land at Sheerness Docks.
It has said the factory would employ about 2,000 people.