British Gas apology to Northfleet veterans over bill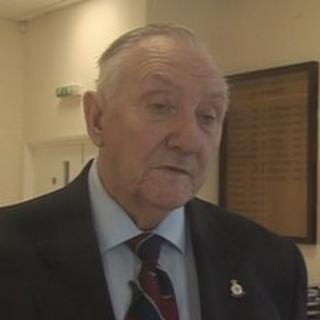 A soldiers' veterans club in Kent has received an apology from British Gas after it was sent an unexpected bill for thousands of pounds.
Northfleet Veterans Club, on The Hill, in Northfleet, was sent bills amounting to more than £6,000 for three months of electricity in its small meeting hall.
Club treasurer Ernie Brooks said it happened after they switched their supplier to the company in July.
British Gas said it had "accidentally missed" a digit when reading the meter.
The club's bill should have been just over £200.
'Correct readings'
In a statement, British Gas said: "We're very sorry for the distress this billing error has caused.
"When we took Mr Brooks' opening reads in July, we accidentally missed one of the digits which led to an incorrect bill.
"We've now amended our records with the correct readings and issued a new bill."
Mr Brooks said the whole experience had been very difficult.
"I was frightened because they kept saying they wouldn't send us any bills and they were going to resolve it, and then the bills just continued to come," he said.
"And of course those are threatening letters - they tell you if you don't pay there'll be an increase day by day."